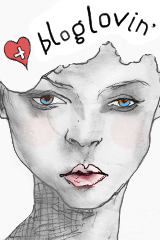 Last month I took part in the very successful "Grow your blog" party that was generously hosted by Vicki at the 2 bags full blog. As a result, I gained most of my 50 followers and also found many blogs that I wanted to follow. My list is constantly growing as there are so many lovely crafting blogs. I have added links to most of them on my home page and check them regularly for updates. But it was starting to get a little unwieldy.
I like the simple life and so I tried Bloglovin' as a way to keep track of updated blogs. They send me a daily email that lists all my chosen blogs that have been updated. This meets my needs completely. There is also an option to receive an email every time one of the blogs I follow has a new posting. But I didn't opt for that as the amount of emails would be overwhelming.
I don't usually advertise other websites so blatantly and I have found that many other bloggers already know about Bloglovin' . But some don't and I can definitely recommend this as a site worth looking at.
I love having followers and have added various ways for people to do that. Now anyone who uses Bloglovin' can choose to follow me that way by clicking on the widget above or on the left hand side of my home page.